Yahoo Technology News
Pogue's Basics: How to create a search-and-replace macro in Word
Thu, 20 Apr 2017 17:12:31 -0400
Among its thousands of features, macros are power-user tools that could benefit a lot of people. You hit Record Macro, you do something — a search and replace, let's say — and then you can play back that macro later. Actually, search and replace is a bad example — Microsoft Word cannot, in fact, record and play back a search/replace.

The first flying car is available for pre-order
Tue, 18 Apr 2017 14:39:45 -0400
The company unveiled their flying car in 2014 but it was not commercially available. Now it's ready and being presented at the Top Marques car show in Monaco. The vehicle is fully functional as both a car and an aircraft, and its hybrid engine makes it environmentally friendly.

Jeff Bezos: Nobody asked for one of our most popular services
Wed, 12 Apr 2017 13:55:19 -0400
In his recent letter to shareholders, Amazon CEO Jeff Bezos wrote that the company has become skilled at predicting customers' desires. "No customer ever asked Amazon to create the Prime membership program," he wrote.

Yahoo Technology News
USA Today Technology News
10 must-have apps for your phone
Fri, 28 Apr 2017 15:23:38 -0400
Certain apps rise above the rest. They're powerful, they're fun, and they're incredibly useful.
What's hot on Facebook, YouTube and Instagram
Sat, 29 Apr 2017 14:26:11 -0400
Which videos are trending big time on YouTube, Facebook and Instagram? Allison Stern knows. The co-founder of Tubular Labs, she monitors online video and publishes monthly reports on usage trends. Stern stopped by the #TalkingTech Live podcast.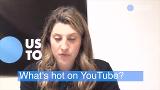 USA Today Technology News
BBC Technology News
BBC Technology News
CNET Technology News
CNET Technology News