Associated Press Political News
GOP's 'Obamacare' repeal all but dead; McCain deals the blow
Sat, 23 Sep 2017 02:02:56 GMT
WASHINGTON (AP) -- Sen. John McCain declared his opposition Friday to the GOP's last-ditch effort to repeal and replace "Obamacare," dealing a likely death blow to the legislation and, perhaps, to the Republican Party's years of vows to kill the program. It was the second time in three months the 81-year-old McCain emerged as the destroyer of his party's signature promise to voters....
Does NKorean H-bomb threat push US closer to war?
Fri, 22 Sep 2017 20:01:23 GMT
WASHINGTON (AP) -- Would exploding a hydrogen bomb over the Pacific, as North Korea has threatened, push the current war of words between the U.S. and North Korea closer to actual war?...
Trump promises Alabama Sen. Strange will 'drain the swamp'
Sat, 23 Sep 2017 02:11:15 GMT
HUNTSVILLE, Ala. (AP) -- President Donald Trump implored his supporters Friday to get behind an establishment-backed incumbent in a Republican runoff race in Alabama, arguing that Sen. Luther Strange will "drain the swamp" and doesn't know the Senate Majority Leader "at all."...
Obama-era guidance on campus sexual assault gets scrapped
Sat, 23 Sep 2017 01:42:33 GMT
WASHINGTON (AP) -- The Trump administration on Friday scrapped Obama-era guidance on investigating campus sexual assault, replacing it with new instructions that allow universities to require higher standards of evidence when handling complaints....
Senate bill would make online political ads more transparent
Fri, 22 Sep 2017 22:39:16 GMT
WASHINGTON (AP) -- Legislation floated by two Democratic senators would enhance transparency for online political ads, requiring social media companies like Facebook and Twitter to keep a public file of election ads and communications....
Associated Press Political News
USA Today Political News
Trump: 'Get that son-of-a-b**** off the field'
Sat, 23 Sep 2017 12:05:36 -0400
While in Huntsville, Alabama, President Trump said, 'Wouldn't you love to see one of these NFL owners, when somebody disrespects our flag, to say, 'get that son-of-a-b**** off the field right now, out. He's fired.''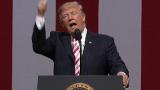 President Trump: Steph Curry's not invited
Sat, 23 Sep 2017 11:29:15 -0400
A day after Steph Curry said he was opposed to the Golden State Warriors visiting the White House, President Donald Trump announced via Twitter that he was withdrawing the invitation.
Trump blasts McCain for health care stance
Sat, 23 Sep 2017 10:19:51 -0400
In Huntsville, Alabama, President Trump blasted Arizona Senator John McCain for not supporting the current proposed healthcare reform legislation in the U.S. Senate.
Trump: Nobody is going to mess with our people
Fri, 22 Sep 2017 22:20:00 -0400
In Huntsville, Alabama, and while talking about the military threat coming from North Korea, President Donald Trump assured Americans, 'nobody is going to mess with our people.'
Meet the new U.S. senators
Thu, 10 Nov 2016 13:28:26 -0500
The 2017 freshman class includes the first Latina senator along with the first African American and Indian American to represent California in the Senate.
USA Today Political News
CNN Political News
NFL commissioner: Trump showed 'lack of respect' for league
Sat, 23 Sep 2017 15:13:56 GMT
NFL Commissioner Roger Goodell on Saturday slammed President Donald Trump's criticism of NFL players kneeling in protest during the National Anthem in remarks the President made at a rally in Alabama Friday night.
Trump upbeat in Alabama despite stalled agenda
Sat, 23 Sep 2017 15:04:53 GMT
Even with his chief legislative promise again stalled, the FBI's special investigator inching closer to his inner circle, and a nuclear crisis brewing in Asia, President Donald Trump's return to campaigning Friday after a week of diplomacy was an upbeat affair.
Where are the world's nuclear weapons?
Sat, 23 Sep 2017 14:53:08 GMT
Nine nuclear-capable states exist in the world, but only eight of them -- all but North Korea -- are believed by experts to have weapons mature and developed enough to be readily incorporated into the arsenals of their armed forces.
McCain won't back Graham-Cassidy bill
Fri, 22 Sep 2017 20:45:14 GMT
Sen. John McCain announced Friday in a statement that he cannot "in good conscience" vote for the GOP's latest plan to overhaul Obamacare, appearing to halt Republicans' latest effort to repeal and replace the Affordable Care Act.
Trump on 2016: 'No, Russia did not help me'
Sat, 23 Sep 2017 06:38:12 GMT
President Donald Trump on Friday called the investigation into Russian meddling in the 2016 election "one of the great hoaxes," and denied anything they did aided his victory.
Pence: UN Human Rights Council 'doesn't deserve its name'
Wed, 20 Sep 2017 17:01:54 GMT
Vice President Mike Pence said Wednesday that the United Nation's Human Rights Council "doesn't deserve its name," slamming the body for welcoming "many of the worst human rights violators in the world."
CNN Political News
Yahoo Political News
In wake of U.N. speech, Kim calls Trump a 'dotard.' Trump fires back at 'madman.'
Fri, 22 Sep 2017 08:28:27 -0400
President Trump and North Korean leader Kim Jong Un have unleashed personal attacks on one another after the U.S. commander in chief's speech at the United Nations. "Kim Jong Un of North Korea, who is obviously a madman who doesn't mind starving or killing his people, will be tested like never before!" Trump wrote Friday morning. Hours earlier, Kim delivered a barrage of epithets against Trump, calling "mentally deranged" and "a gangster fond of playing with fire," according to the New York Times.

Kurds to vote on independence, potentially splitting Iraq
Thu, 21 Sep 2017 17:55:52 -0400
The Kurdish people are taking an enormous step to claim their own country in northern Iraq. A referendum vote to secede from the country and become an independent Kurdistan will take place on September 25.

Iraqi Kurds to vote on independence
Thu, 21 Sep 2017 16:51:37 -0400
The outcome of the vote, almost certain to be "yes," is likely to further rattle a region still engulfed in the fight against the Islamic State group. Baghdad and Iraq's neighbors Iran and Turkey — which worry it will encourage their own sizable Kurdish populations — have all demanded it be called off.

Trump unveils new sanctions targeting North Korea
Thu, 21 Sep 2017 14:02:56 -0400
Following up the forceful statement he made at the U.N. on Tuesday, the president announced a new executive order applying further restrictions on North Korea and firms that do business with the country.

Gab, the social network of the 'alt-right,' fights to stay online
Thu, 21 Sep 2017 14:01:55 -0400
A social networking website popular with white supremacists faced a fresh round of controversies this week after it banned the former system administrator of the neo-Nazi Daily Stormer from using its services. It also faced a deadline from its domain registrar in Australia, which said it would delist the site over its controversial content.

Yahoo Political News